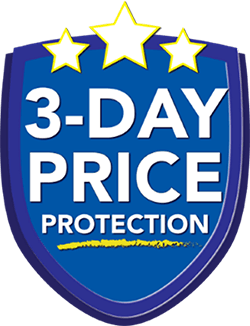 3 Day Price Protection.
If a customer purchases a vehicle and they find a better deal on the same vehicle elsewhere, then Nissan of Lafayette will match or beat that price. We're confident enough in our prices, so we don't plan you finding a better deal anyway.
Here's how our price protection works
You must present a bon-a-fide Buyer's Order with a manager's signature from the competing dealership.
The buyers order must include the make, model and a full equipment list of the vehicle being purchased.
If a customer leaves Nissan of Lafayette with a price on a vehicle and the customer receives a lower price from a competing dealership, Nissan of Lafayette must be given the opportunity to beat that price.
If Nissan of Lafayette does not have the identical vehicle in inventory and is unable to secure the identical Nissan vehicle the $5000 guarantee will not be honored.